PROGRAM OVERVIEW
NAFTA (North American Free Trade Agreement), APEC (Asia Pacific Economic Cooperation) & the new WTO (World Trade Organization) agreements are revolutionizing international trade and creating millions of new business opportunities. Responsive to standards and demands of industry for training in this field, Brighton College has partnered with FITT (Forum for International Trade Training) and the Canadian International Freight Forwarders Association (CIFFA), to deliver the program.
The International Trade certificate program is instructor-driven, allowing students to navigate quickly through theory and office/accounting software. The curriculum includes experiential international trade lectures and freight forwarding courses facilitated by industry experts with years of experience. The program entails 4 weeks work experience (practicum) at various small and mid-sized businesses throughout the lower mainland. Students must complete all prescribed courses of the program to be eligible for a certificate.
This program is 20 weeks in duration:
20 weeks instruction and 4 weeks optional practium (24 weeks).
The International Trade Program is Accredited by: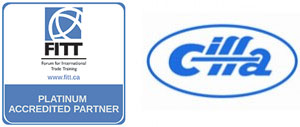 COURSE DESCRIPTIONS
The structure of the program consists of two separate certifications that are recognized worldwide. The first certification is acquired completion of the 8 FITT modules required by FITT for the Forum for International Trade Diploma and the educational requirements for the Certified International Trade Professional designation (C.I.T.P.).